Use of supercomputers by foreign nationals and those residing abroad
Under the Foreign Exchange and Foreign Trade Act, the provision of supercomputing technology (including the browsing of manuals that is available only to users) is deemed as the provision of technology subjected to regulation. For that reason, the use of supercomputers by non-residents (researchers affiliated with institutions outside of Japan, international students who have been in Japan for less than six months, etc.) is subjected to regulation under the law.
The University of Tokyo permits non-residents to use the supercomputers only as a member of group course upon the necessary verification, and based on the relevant laws and regulations. If a non-resident wishes to submit an application to be the user of the supercomputer systems, please inquire beforehand with the following department.
Cases where research results obtained through the use of the supercomputers are published for an overseas audience are deemed as an act of disseminating public knowledge about technology, and approval from the Minister of Economy, Trade and Industry is not necessary. However, it may be necessary to apply for approval in cases that are not excepted from approval, so please give due consideration when submitting articles to academic journals or making presentations at academic conferences.
the Regulations of Deemed Export Controls
The related laws and regulations of the Foreign Exchange and Foreign Trade Act (FEFTA) has been revised and the scope of "deemed export controls" will be expanded from May 1, 2022. To date, FEFTA defines "deemed export controls" to cover not only the export of goods or technology transfer across borders but also the transfer of technology domestically from a resident (*) to a non-resident. In addition to this, once the revision has come into force, deemed export control will include technology transfer from a resident to a resident who is under significant influence of a non-resident. The categories of "significant influence" are also defined.

See the attached "For those who start to work as a faculty or staff in Japanese universities and research institutes" by the Ministry of Economy, Trade and Industry
" Request for Your Cooperation for Compliance with the Regulations of Deemed Export Controls "

The revised FEFTA requires the University of Tokyo to confirm whether or not each faculty or staff member falls under the specific categories.

For any clarification, please inquire with the following department.

Research Support Team, Information Strategy Group, Information Systems Department, The University of Tokyo
E-mail:

Reference
Assessment of Residents and Non-Residents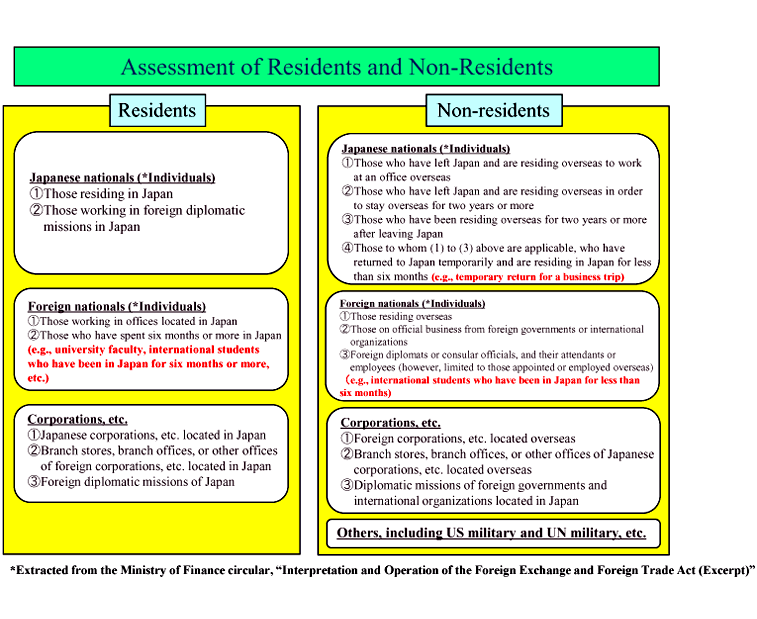 The University of Tokyo
Ministry of Economy, Trade and Industry