Trial Use Course (Industry)
The Information Technology Center, The University of Tokyo (hereafter, "the Center") provides "Trial use course" for those who are considering using the supercomputer systems of the Center. Users can try out the supercomputer systems at lower cost than such as "General use" and "Corporate use" or free of charge (only for industrial corporations) and consider whether to use them in earnest, or clarify the problems of their programs. Currently, there are 3 supercomputer systems available: Oakbridge-CX, Oakforest-PACS and Reedbush.
After trial use, if users decide to use supercomputer sysems in earnest, then they can make the transition to general use. The shift to general use is expected to promote the further use of computer systems.
Users can also use Free Trial Course(Formerly known as Trial Use Course (Free Trial)), so please consider using it as well.
The trial use course is available through the following two methods.
(1) Free trial use course that is limited to use by industrial corporations
(2) Paying trial use course that allows users to try out the supercomputer systems at a low cost
Illustration of the trial use course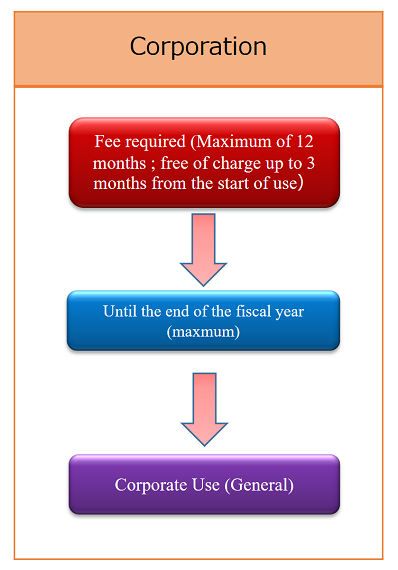 The flow of use in the trial use course differs depending on the user and the course of use that they apply for.
For details, please refer to Flow of use.
Application details
Please click here for application details for the trial use course (Industry).
Disclosure of results
The trial use course (Industry) is a system that requires the disclosure of the results of use. Users are required to submit a report on the results of use within one month after the end of their period of use. The following information will be disclosed through PR materials and online after the completion of use.
Project title, name of corporation
Items disclosed in the report on the results of use
However, industrial corporations that submit a request may extend the disclosure of their reports on the results of use for a maximum of two years.
Report on the results of use
PDF・Word
Moving from trial use course to general use course
If you wish to move to the general use courses after the trial period has ended, please complete procedures by filling in the necessary items in the application form for continued use, which will be sent to you around January. After making the transition to general use, the user number issued under the trial use course and files will be moved directly to the account for general use. Please note that tokens will not be transferred.
 With the exception of use under the MEXT Grant-in-Aid for Scientific Research program, users affiliated to industrial corporations cannot make the transition from the personal course under the trial use course to the personal course under the general use system. For details on applying for general use, please refer to "General Use."
Submissions/Inquiries
2-11-16 Yayoi, Bunkyo-ku, Tokyo 113-8658, Japan
Research Support Team, Information Strategy Group, Information Systems Department, The University of Tokyo
E-mail:

FAQ for trial use course